This post may contain affiliate links. If you use these links to buy something I may earn a small commission at no cost to you. Thanks.
…
Like a lot of my pattern ideas, this one came from a friend's request. She asked for some spooky décor for her room. She was decorating with a Beetlejuice theme and mentioned "headstones or something" to go along with it. I went, hmm…. I immediately thought of this design and figured it would be simple enough, quick enough, and timely enough (with Halloween right around the corner!) to put it together for her and for you!
I also had to take it another step further and design a whole set of Spooky Halloween Pillows! You'll also find patterns for a Ghost and Monster Pillow. Yay! I am really into the pattern bundle lately. But it works! The patterns are of a similar design but still different enough to fit their images.
As always, you can find the patterns here on the site for FREE with the basic instructions that you need along with a graph to cross stitch your design!
If you prefer the PDF versions of things, you can purchase through Ravelry or ETSY. The PDFs include extra graphs (more designs for your pillows) and the extra cross stitching instructions. Woot!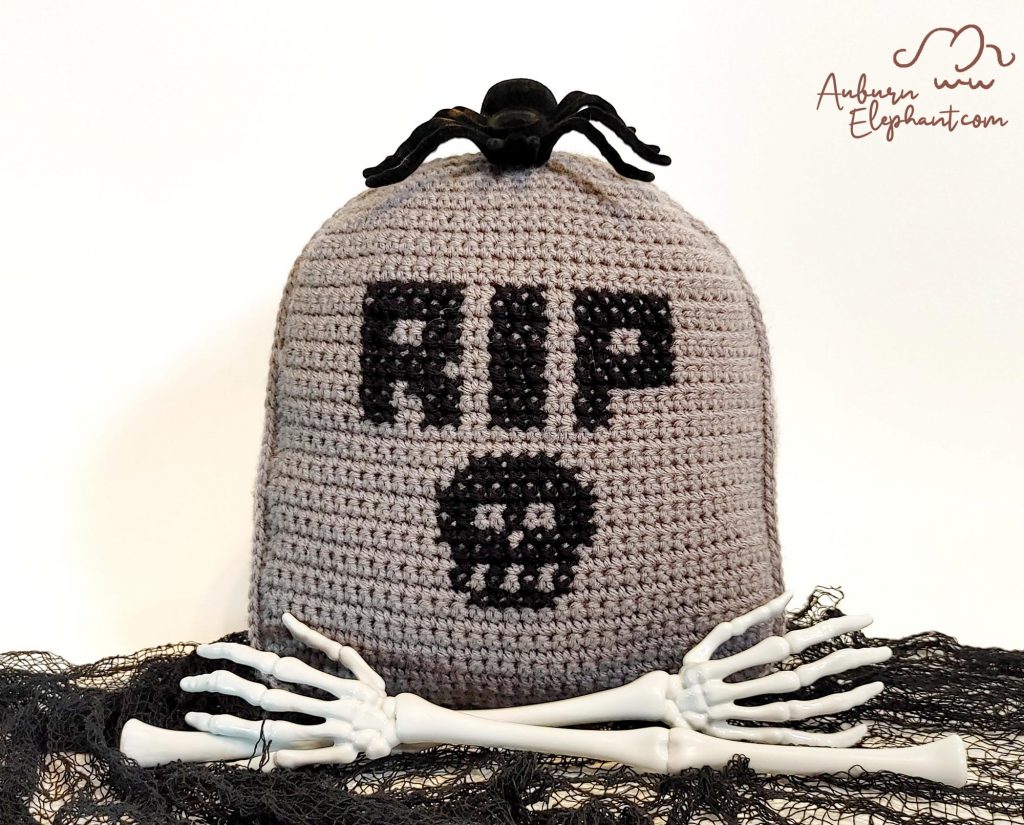 I hope you enjoy this crochet pattern and that I've made it easy enough to follow. If you have any questions you can contact me at auburnelephant@gmail.com OR through my contact page. I'd also love to see your finished creations! Connect with me on Facebook or Instagram- @AuburnElephant!
A couple of disclaimers: This pattern is intended for personal use only. You are welcome to use the pattern to make and sell products, to keep for yourself, or to give away as gifts. I would appreciate receiving credit and a link back to the site. Please do not republish or distribute the pattern in any way, or use my photos in your listings.
Supplies Needed:
Big Twist Value Yarn, Medium Worsted Weight 4 (100% Acrylic, 371 yds, 6 oz) Medium Grey, 1 skein- approx 250 yds, Black, approx 10 yds
G/6 4.25mm hook
Needle
Polyfil stuffing
Stitches/Terminology Used (US):
FSC- Foundation Single Crochet
Sl st- Slip Stitch
Ch- Chain
St(s)- Stitch(es)
SC- Single Crochet
BPSC- Back Post Single Crochet
Skip- Skip next stitch
Notes:
Please read through the pattern in its entirety before beginning.
The graph is located at the very bottom of the PDF.
This pattern will have 2 pieces. One is a flat panel that will have your design on it and the other piece will be a panel but with sides that will attach to the front.
I did my design in cross stitch, you can also do this as a graph with color changes as you go. I really enjoy the process of cross stitch and the look of the result but if you prefer to do the color changing go for it. I've included the graph for you to be able to follow.
If you need help with cross stitching on crochet, check out my tutorial post HERE.
If you choose to crochet the graph as you go, you will follow the graph from the bottom up, right to left, then left to right for the next row and so on. You don't have to keep the back side very tidy as it will be hidden. But keep in mind a dark color is more likely to show up behind a lighter color.
Panels are worked in rows. Each row will end with a Ch 1 and turn. Chains do NOT count as stitches throughout.
The sides are worked in joined rounds.
Gauge for this project is not important. You want to make sure that your stitches are consistent and even so that you have a good base for your cross stitch and that your stuffing doesn't show through. My pillows came out to be about 10" wide x 12" tall x 4" deep.
Panels
(Make 2)
In Medium Grey
1) FSC 35 OR Ch 36, starting in 2nd from hook, SC in each across. (35)
2-33) SC in each st across. (35)
34) SC, Skip next st, SC in next 31, Skip next st, SC in last. (33)
35) SC, Skip next st, SC in next 29, Skip next st, SC in last. (31)
36) SC, Skip next st, SC in next 27, Skip next st, SC in last. (29)
37) SC, Skip next st, SC in next 25, Skip next st, SC in last. (27)
38) SC, Skip next st, SC in next 23, Skip next st, SC in last. (25)
39) SC, Skip next st, SC in next 21, Skip next st, SC in last. (23)
40) SC, Skip next st, SC in next 19, Skip next st, SC in last. (21)
41) SC, Skip next st, SC in next 17, Skip next st, SC in last. (19)
42) SC, Skip next st, SC in next, Skip next st, SC in next 11, Skip next st, SC in next, Skip next st, SC in last. (15)
42) SC, Skip next st, SC in next, Skip next st, SC in next 7, Skip next st, SC in next, Skip next st, SC in last. (11)
Edging: Ch 1, Continue to SC around the edges, Place an extra SC in each of the bottom corners. Join with a sl st to the first SC of the edging. The count for your edging doesn't have to be exact but you should be placing about one stitch per row and one per stitch across the top and bottom. That should be about 132, with the extras in each bottom corner. If yours is off by a little don't worry as long as you've kept the spacing even. Just carry this number through your edging and repeat on the other panel.

Finish off the first panel. This will be the side that you will cross stitch your image to. You can do this at any point after you've finished the panel but I would suggest doing it before doing the other side. The graphs can be found at the end of the pattern along with some instruction and tips.
For the second panel, do not fasten off after the join of the edging round. Continue to crochet the sides. (You can also finish off the second panel and then rejoin your yarn at another spot so that the seam is in another place if you are worried about it being noticeable at the top.)
Sides
1) Ch 1, BPSC in each st around. Join with a sl st to the first BPSC of the round.
2-10) Ch 1, SC in each st around. Join with a sl st to the first SC of the round.
From here you will join the sides to the front panel. I chose to do this with a SC round going through both panels. You want the "right side" of your SC joining round to be facing the front of your headstone so when you put your pieces together you will be going through the single panel first and then through the sides.
Continuing from Round 10 of the side, Ch 1, Insert hook through the front panel at the stitch that lines up with where your join is and through the first stitch of your edging round, work a SC through both layers at the same time. Continue around the side. Stop about 4 inches from the end and stuff your pillow as firmly as you like. The more you stuff it the rounder the pillow will get. You want to give it enough filling that the shape holds but not so much that it becomes distorted. (Alternately, if you want a firmer headstone, you could cut a piece of foam to fit.) Once your pillow is stuffed, finish SC around. Join with a sl st to the first of the round. Finish off, weave in your ends.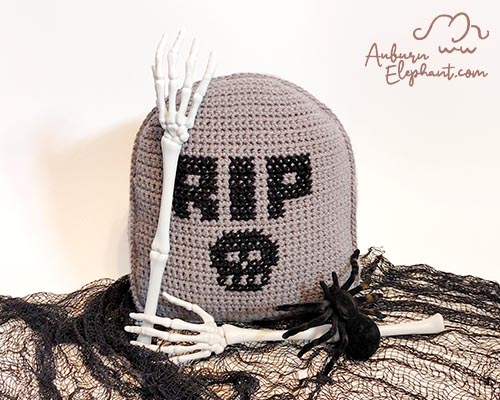 Graph
Below you will find the design for the front of your Headstone. If you would like even more choices for designs you can check out the ad-free PDF download, there are 3 different sayings PLUS a blank graph where you could create your own too!
To cross stitch your design, you will simply follow the pattern as written above for the front panel and then using a needle and length of yarn (you want a pretty long piece so you don't have to tie off and restart so many times but also you don't want it to be so long that you end up with tangles) you will count over and down to the appropriate place on the graph to start. I suggest starting at the top left corner of the graph and working left to right and top to bottom.
If you need extra guidance for the cross stitch portion of this pattern, you can check out my post on it HERE. OR you can get all those tips PLUS extra graphs and photos in the PDF download, available at Ravelry or ETSY.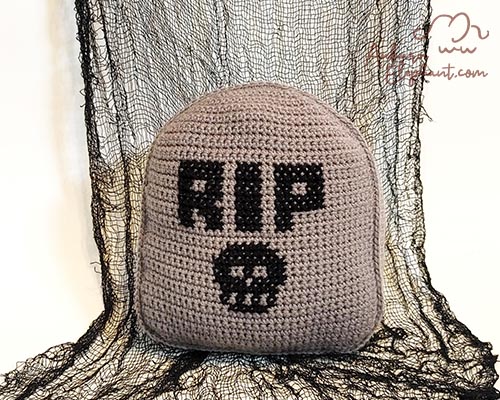 KEY
– Black, or the color you choose for your design
– For your Headstone, this is the base color (I used Medium Gray).
– These are NOT part of your design. These are unused boxes of the graph.
And there you go! A plush Headstone pillow that's not too spooky but still fits the season. If you would like to add more to your décor options check out the rest of the Spooky Halloween Pillow set!