This post may contain affiliate links. If you use these links to buy something I may earn a small commission at no cost to you. Thanks.
…
One of the things that I wanted to focus with for my designs starting this year was giftability. (That's a word…) I wanted to focus on making things that make great, quick gifts. I am a pro at procrastination and I have found that I often wait too long to start gifts that they never seem to arrive on time. I have gotten better about planning over the years but I'm still more likely to end up with a sleepless night before a deadline than to actually give myself enough time.
Enter the Lovey! These are just so frickin' adorable! They are great gifts for babies or kids and they really do work up in an evening. Plus, they are more than just a blanket or a stuffed toy–they're both! They do pair really well with blankets too if you actually are the kind of person who can plan ahead and make gifts that get delivered on time…
I would also consider making these for craft shows! The first one or two might take you a little longer but once you get the hang of the pattern, you'll fly through them and actually be able to make a profit for your time! (which is super important when you're trying to sell!)
I'm definitely planning up more of these bundles as I think they are just darling and incredibly useful for so many. I'd love to hear your thoughts or if you have suggestions for more sets or additional farm animals! 🙂
On the Farm Loveys
So this specific set includes the patterns for Wesley the Pony, Spike the Pig, and Rupert the Duck.
I'm offering these loveys in several ways…
… As always, the basic individual patterns will be free here on the site. (Use the links below)
… They will be available to purchase as individual Premium PDFs from Ravelry and Etsy. (Check out the individual pattern pages for the links)
… They will also be available as a Premium Bundle for a discount! Essentially, 3 patterns for the price of 2! Woot!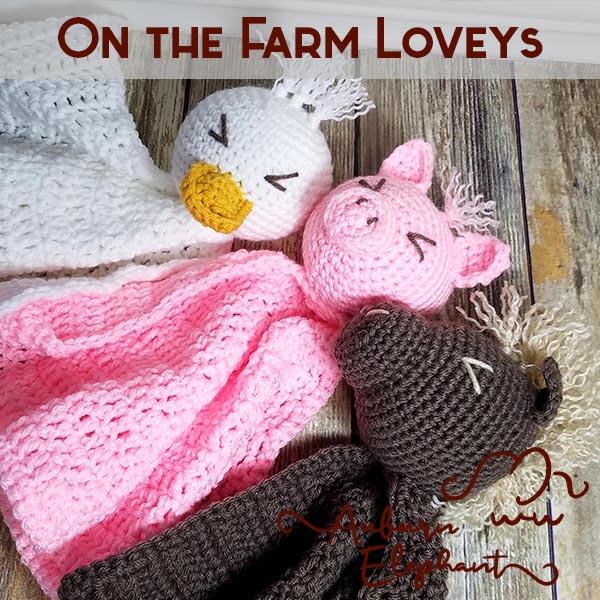 Check out the Individual Lovey patterns through their pages below!
I hope you love these designs as much as I do! I definitely hope to have more to offer in this area soon so keep checking back!